Paint Protection Film (PPF)
When it comes to safeguarding your vehicle's exterior, Paint Protection Films (PPF) set the standard for unrivaled durability and performance. These advanced films are meticulously designed using cutting-edge technology to deliver optimal protection against scratches, chips, and other forms of damage caused by everyday hazards.
With Shield Street as your trusted installer, you can experience the benefits of Suntek Reaction and STEK DYNO shield films to their fullest potential. Our highly skilled technicians have undergone extensive training to ensure flawless installations, guaranteeing a seamless fit that is virtually undetectable to the naked eye. We take pride in our attention to detail, using computerised templates and custom patterns to create a precision-cut film that perfectly conforms to your vehicle's contours.
Suntek Reaction and STEK DYNO shield films are engineered to provide long-lasting protection while maintaining the aesthetics of your vehicle. Their exceptional self-healing properties allow minor scratches and swirl marks to vanish with exposure to heat, keeping your vehicle looking pristine without the need for costly repairs or repainting. By preserving the factory finish, these films not only enhance the appearance of your vehicle but also increase its resale value. Paint protection films also protect against environmental factors like UV rays, oxidation, bird droppings, and tree sap, which can cause paint fading and etching over time. By shielding the vehicle's surfaces, paint protection film helps preserve its factory finish and enhances its resale value.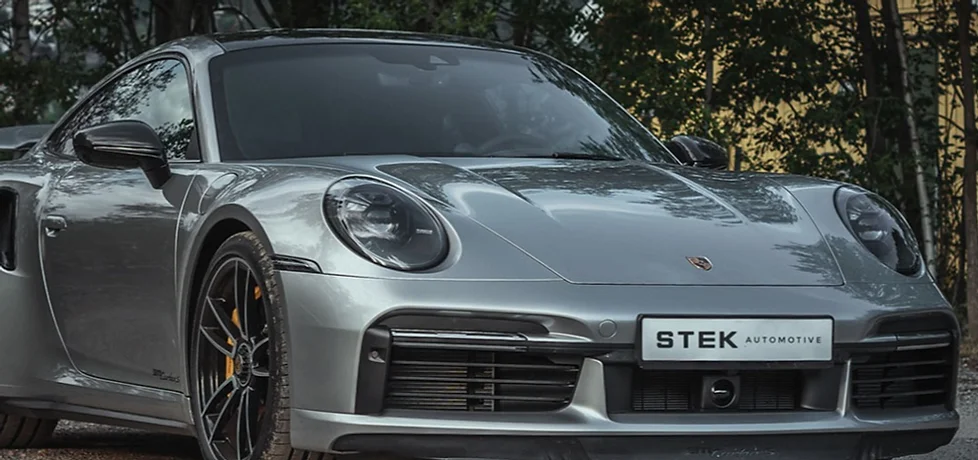 In addition to protection, paint protection films offer convenience and ease of maintenance. The self-healing properties of the film enable minor scratches and swirl marks to vanish with time and exposure to heat, eliminating the need for costly repairs or repainting. The film is also resistant to stains and can be easily cleaned with regular car wash techniques, maintaining its optical clarity, and ensuring a glossy appearance. Both Suntek Reaction and STEK DYNOshield films possess outstanding hydrophobic properties that effectively repel water and dust, ensuring your vehicle stays cleaner for extended periods and simplifying the washing process. These advanced films excel in maintaining a sleek and spotless appearance, making it easier than ever to keep your car looking its best with minimal effort.
At Shield Street, we understand that every vehicle is unique, and that's why we offer a personalised approach to our . Our expert team takes the time to understand your specific needs and desires, providing tailored solutions that align with your expectations. Whether you have a daily driver, a luxury car, or a high-performance vehicle, we have the expertise to deliver outstanding results that surpass your expectations.
As an industry leader, Shield Street Paint Protection and Wraps takes pride in our commitment to using only the finest products available. Suntek and STEK films have been rigorously tested and proven to withstand the harshest conditions, ensuring your vehicle remains protected for years to come. We believe in delivering nothing less than exceptional quality and craftsmanship to our customers.
When you choose Shield Street as your paint protection film installer, you can rest assured knowing that your vehicle is in the hands of experts who genuinely care. Our dedication to customer satisfaction drives us to go above and beyond to meet your needs, providing an unparalleled experience from start to finish. We pride ourselves on our reputation for excellence, and our satisfied customers attest to the transformative results we deliver.
​
Elevate your vehicle's protection with Shield Street Paint Protection and Wraps, offering the superior performance of films. Contact us today to schedule a consultation and discover how our exceptional services can safeguard your vehicle while enhancing its overall aesthetic appeal.